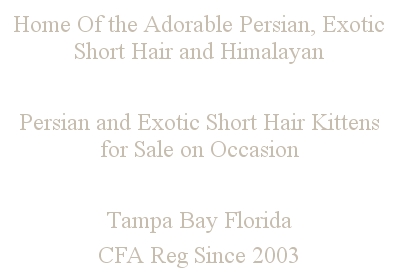 CFA GC Belcherpurrs Prince Charming ( Gino )

Oceanpurrls Prince

X CH Belcherpurrs Cherry Cherry

This boy was a joy to show ! What A Gorgeous kitten!

Thanks to Jurgen at Henajutras for finishing him for me. Now in Germany producing beautiful babies.

TICA GC Belcherpurrs Keepurr of Hollow Hills

Partiwai I am Max Amazing X CG Belcherpurrs I am Lady Adele 

ONE SHOW GRAND

I knew Verna was the perfect home for this chunky Tank. Thanks for everything Verna. Your patience, care and friendship mean so much! 

CFA Grand Champion  Belcherpurrs I am Lady Adele

now producing gorgeous show babies

Dam to Belcherpurrs "CFA One show"  Grand Champion

Keepurr of Hollow Hills -Now Siring

CFA Grand Champion I am Bradley

What a typy beautiful loving boy! Soo Extreme and produced amazing very very short kittens! Now rehomed and Siring. Cannot wait to see his new babies!