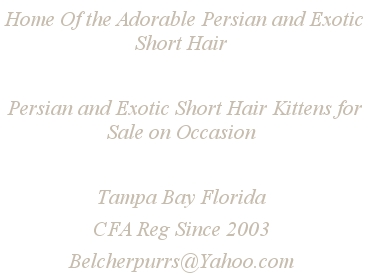 Welcome to our available pages!

Just a little information regarding our adoptions

First we hope to make sure you understand that we are not a 24/7 year round breeding business with 20 cats in cages. It is truly a hobby for me when I have time to do a litter.  

I am a full-time Mom raising 3 beautiful kids , all in different schools, and all of which think I am Houdini and their personal staff :) I am Busy!! Please be patient and I will answer your inquiry as soon as I can break free :)

I have a solid reputation with my kitty families and always do right by those who adopt a baby from me. 

We respectfully request an Introduction

If you are seriously interested in one of the babies listed please send me an email with a short introduction of where you live, what you are looking for, Long Hair Persian or short hair exotic and your experience with these extreme face babies and I will get back with you as soon as I can. 

Deposits and Contract

Deposits are one half of the price of the kitten listed with their balance due by 8/10 weeks. My babies are separated and hand raised at 5 weeks to help avoid viral transmission. I have a solid month to watch them on their own prior to going home. I do sell on  a contract for everyone's piece of mind. Once a contract is forwarded you have 24 hours to make the deposit into our Bank or we will offer the kitten to the next family.  We understand people change their minds and that's ok. We just do not want to turn away a nice family if the kitten is still available. The babies are still available until a deposit has been received.

Spay and neuter and Vetting

All Males are neutered prior to leaving unless the testes are not present at final vetting or unless they go to a breeder home.  My kittens will have their vaccinations prior to leaving and have a State Veterinarians Certificate proving their testing for FELV, parasites , deworming and an over all exam. We absolutely guarantee PKD Free. We do not breed from PKD positive adults. 

DELIVERY AND SHIPPING 

 We personally Deliver your kitten to the nearest major international airport. Cost is based on available airfare with a same day turn around. Because flying is an all day affair there is a trip charge of 200.00 non refundable when possible. The kitten will cost between 99.00 and 150.00 to board the plane with me and the health certificate of 55.00. While we understand this may be pricey the Animal welfare act has set these restrictions and we must be in compliance. If you cannot meet with me personally prior to taking possession, a family member or personal representative chosen by you may step in to make the adoption possible. We can talk more about this during your adoption if need be.

Home visitation

  We provide numerous pictures and video of your little one prior to going home. ​Due to the potential of viral and ringworm spores that can be brought in on your hands and feet and for the safety of my children we no longer offer home visitation. We happily meet our clients anywhere that has outdoor cameras. 

email : belcherpurrs@yahoo.com

Thanks a Million! 

Sandra 813-966-9612 Text please 

AVAILABLE BABIES

EXOTIC SHORT HAIR MALES

Black and white

Born April 16, 2017  Ready Anytime now

These little guys are adorable fat little purr machines. Both are doing great, eating well and looking for their forever homes. Tons more pics and video available.

Our pet exotic short hair are $ 1600.00/ $1700.00 , Experienced breeder homes $1800.00/ $2000.00, which includes a State of Florida Health certificate proving vaccinations, Parasite testing, Felv testing and an over all exam.  We do not breed from PKD lines so guarantee against it.

These babies will also be neutered prior to going home at an additional cost of  $ 55.00.  My schedule is super busy right now with kittens in tow so please text for a faster response. 

Sandra 813-966-9612

Belcherpurrs CFA Champion Paris, an exotic short hair Calico 

Born  8-20-11

Very loving to humans however tends to be bossy with other cats. Very easy to bath! Currently growing out of a Lion cut :) Has a thick beautiful plushy coat when fully grown out. 

Adoption fee $ 375.00 includes Shots spay and health certificate

Would consider a small Responsible breeder home if you would like to do a litter to hold back from for outcross. She has produced adorable kittens. Paris is very very extreme with a tiny nose, Easy to Breed and easy birther. Just drop me a line with your web address :) 

Franklin and his brother are both easy going babies and will make adorable pets for their new families, Franklin will be a bit easier to keep up with as you can see his nose is black and he has color under his eyes. Love his goatee and nose marking! Will be a remarkable grown up :) Love him!   VIDEO BELOW

Meet High Maintenence :)

​a gorgeous little exotic short hair male

A gorgeous well bred Exotic or Persian 

is an awesome sight ( in the right hands). This boy is so

beautiful and will be an even more stunning adult with those big eyes as long as they are cared for daily with a moist rag just underneath the eye and a little corn starch. These flat faced babies will tear much like a Poodle or Maltese and leaving that tearing on the furr especially during the kitten stage will stain the furr.  I have tricks and will share if hes the one for you :) He is weaning well and the little bit of facial staining will be removed before he goes home. Watching him learn to eat was like watching a Tonka Truck in the mud lol. 

Please know that i cannot hold these babies without a deposit in hand. 

SEE HIS VIDEO BELOW

A funny little Exotic Short Hair Male